Description
Flat Centre Channel to Compliment Flat Panel Televisions
THE SUONO SONOTA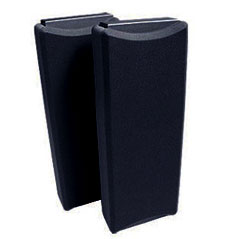 Sonata is a complete range of loudspeakers for Stereo, Home Theatre and custom-install applications. This includes on-wall, free-standing loudspeaker and an active low frequency transducer (subwoofer).
The SONATA loudspeaker cabinets are crafted from MDF covered with acoustically transparent cloth (in cream or black or silver) which offers excellent acoustic properties, contemporary looks and a very durable finish.
The SONATA has evolved from the earliest products but now use twin mid/bass drive units for higher power handling and increased acoustic output. The SONATA speakers all come with built-in brackets for easy wall mounting.
A matching low frequency transducer (subwoofer) can be added where an extended bass performance is required for Stereo or Home Theatre applications. (sold seperately)
Features
2-way 3-driver on-wall loudspeaker
Impedance – 6 ohms
Crossover – pcb mounted first-order

Sensitivity – 87 dB/W
Drive units

Bass/Mid – 2 x 130mm
Treble – 1 x 25mm
Power handling – 70W
Frequency Response – 55Hz – 20kHz within 3dB
Loading –  tuned box
Room position – on-wall